A big loss for GA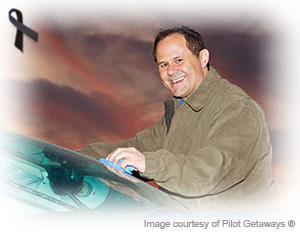 John Kounis, Editor in Chief of Pilot Getaways, passionate aviator, aviation adventurer, entrepreneur, globe trotter and GA supporter died suddenly Monday, July 13.

One-of-a-kind, brilliant and generous, he left us way too soon. He will be greatly missed. We join his family in their sorrow.

Thank you for your friendship, enthusiasm and support!


Rick and Pia
Caribbean Sky Tours

AOPA has established a flight training scholarship to honor John Kounis's legacy. Contributions to the John Kounis Memorial Scholarship can be made online or sent to the AOPA Foundation. Please note the scholarship name on contributions. One hundred percent of the funds will go toward an aviation scholarship for a student pilot.
2013-2015 Pilot's Guide to Mexico and Central America
Now in its 6th edition, Caribbean Sky Tours has released its 2013-2015 Pilots Guide to Mexico and Central America and has LOWERED the retail price. Printed in FULL COLOR, the 2013-2015 Pilot's Guide has almost twice as many airports including destination photos and verified airport information with airport pictures and sketches as well as important telephone contact information. The Pilot Guide's "Procedures" section has been expanded to include procedures for each country with what you need to know to enter, fly within, depart or over-fly each country. When you purchase a 2013-2015 Pilot Guide, you also receive a FREE 1 year membership to the Caribbean Sky Tours Member Website which provides access to fuel prices, procedures, forms, charts, weather and more ( a $ 49.99 value). More countries, more airports, more information, FREE membership all for a lower price!
Escorted Fly-Ins: 3 new adventures for this 2015!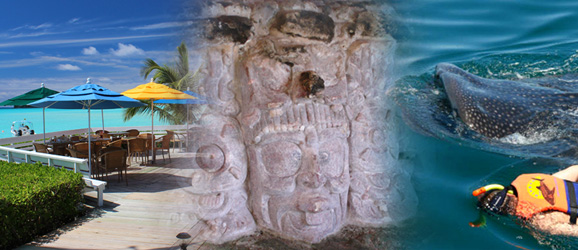 Get ready now! This 2015 we offer three exciting new adventures to choose from: stunning Bahamian beaches, sunny Caribbean weather, pre-hispanic archeological sites and the thrill of a lifetime swimming with the largest fish found in the ocean today...
Mexican APIS

Caribbean Sky Tours, with the strong support and backing of AOPA and working with Mexican Immigration has been able to take the first step in easing the burden faced by GA pilots having to comply with Mexican APIS... Read more
. . . . . . . . . . .
Vacation Planning

Planning on flying your private plane to Mexico, the Bahamas or Central America? With our Vacation Planning Services, you can leverage our in-country expertise to develop your own custom flying vacation with an itinerary that meets your individual interests and needs. You will receive recommendations on lodging, restaurants, activities and transportation and we will book them for you on request. Pilots will benefit from a pre-flight planning consultation to review pertinent aeronautical information. We will advise airport authorities, in advance, of your intended arrival. and provide you with a local number to reach us in case of emergency.....
. . . . . . . . . . .
Latest News
For the latest News, Updates and Important International Aeronautical Information, visit our on-line forum.
Effective July 01, 2013 the Bahamas government has implemented new fees on aircraft landing in the Bahamas regardless if entering the country to visit or while in-transit on a refueling stop... Read more
. . . . . . . . . . .
Testimonials
Read what our customers have to say
Thank you very much for the excellent trip you provided for the both of us. It was an experience that we will cherish for the remainder of our lives. Your professionalism and patience was truly remarkable. We both wish you well and look forward to travelling with you in the future. We also hope...